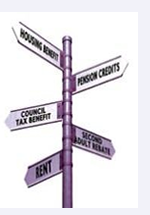 WELFARE BENEFITS
We are able to assist on a whole range of welfare
benefit issues. The benefit system is extremely
complicated; It is easy for both claimants and officials
to make mistakes that can lead to serious legal problems.
Bureaucracy and staff cuts can lead to severe delays in
benefit offices dealing with your claim or appeal.
Professional advice is often needed to help resolve problems.
We provide specialist benefits advice in the following case:
• Benefit overpayment appeals
• Benefit entitlement appeals
• Benefit fraud
• Habitual residence appeals
• First tier and Upper Tribunal appeals
We can assist with reviews, appeals and disputes against decisions made by:
• Jobcentre Plus, or
• The Tax Credits Office, or
• The Child Support Agency, or
• Your Housing Benefit / Council Tax Benefit office.
This list is not exhaustive and if your particular problem does not appear to be listed, please discuss it with one of our solicitors who will be able to assess the problem and advice you accordingly. If we cannot help you we may be able to refer you to someone who can.